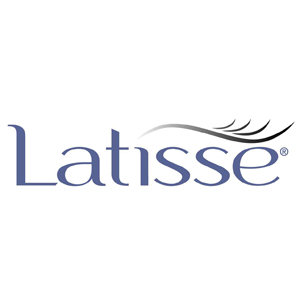 The truth is, Latisse is fairly popular mainly in the USA. Basically, this product is used mostly in order to extend and improve density of eyelashes. Unfortunately, Latisse is not similar in terms of appearance, composition, and manner of application to any other known cosmetics that affect eyelash condition (eyelash serums).
Latisse is closed into a white bottle ended with a cork.
The dispenser is designed in such a way to distribute only one drop of the cosmetic. How to conduct the application then? First of all, you have to go to a cosmetic shop and buy a little brush since the producer has provided no applicator. Then, you can put the product on cleansed skin of eyelids. Worth mentioning, only precise mascara along with eyeliner removal facilitates absorption and proper working of the cosmetic. Now, you can distribute a single drop of Latisse onto the brush and apply it along eyelash base of upper eyelid. Obviously, the same manner of application concerns the other eyelid. Due to the fact, that the cosmetic has got liquid consistency, one has to be careful enough not to let the product reach the eyeballs. This may cause uncomfortable irritations. After every application, it is suggested to throw away the applicator and use a new one for proceeding the course of the treatment. Unfortunately, this increases the cost of Latisse treatment.
It is doubtful whether Latisse is powerful enough to extend or take good care of eyelashes. Why? The truth is, the product is widely used for treating some particular eyes disorders. Eyelash extension is rather perceived as a side effect of the treatment that, to make matters worse, is not long-lasting. As soon as the treatment is over, longer eyelashes tend to fall out and the achieved effects simply disappear. What is more, as the treatment is ongoing, one can notice discolouration of eyelids or a dried-out line that runs along eyelash base. In order to toss out the redness and dried-out product, it is suggested to damp a cotton pad with dual-phase liquid or any other strong make-up remover, and then, rub the eyelids gently. If somebody suffers from any eye disease or skin ailments, it is advisable to consult a physician before staring Latisse treatment. Basically, the eyelash serum is not recommended for people who have sensitive skin of eyes and eyelids as well as for those who are prone to develop allergies.
Pluses:
– Precise dispenser
– Easy application
– Minor eyelash extension
Minuses:
– Irritates and discolours eyelids
– High price of the treatment
– Is not recommended for everyone